Honeywell Total Connect Vehicle Tracker (TCVT2)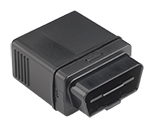 Honeywell Total Connect Tracking Services provides a dynamic, on-demand tracking system that helps you monitor and keep track of your vehicle, wherever it is on the road. With it, you will have access to vehicle/asset location, location history, programmable speed alerts (vehicle alerts), and customized preset notifications upon entering or exiting a designated area
With Honeywell's TCVT2 model, you can combine tracking services with any number of other systems, including interactive security, energy management and video services, or it can be installed as a standalone service. This is also an excellent way for dealers to earn RMR.
Stay in control with your security and automation systems, view live video and receive important email and video notifications on mobile devices anytime, anywhere.
Features and Uses
• Recommended for passenger cars, light trucks and service vans
• Plug and play Installation – plugs directly into vehicle's OBD port
• Vehicle diagnostics and reporting capabilities
• Compatible with most vehicles built since 1996
• Compact, lightweight, low profile design
• Internal antennas
• Customizable features (GPS location, geo-fencing and events)
• Monitored and reconfigured remotely
• Location history with starts and stops
With Honeywell Total Connect Tracking Services,. You will be able to keep a watchful eye on your vehicles and know where they are going at any given point.
Ready to get a quote on our services?