Honeywell ZWSTAT Z-Wave® Thermostat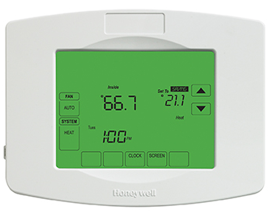 With Honeywell's smart ZWSTAT Z-Wave® thermostat, you can keep your home temperature right in the sweet spot and save you up to 33% on annual heating and cooling costs.*
Z-Wave® technology is a wireless platform that connects electrical equipment in your home or business to your computer and mobile devices, giving you the ability to set detailed controls and manage those settings on the go. The ZWSTAT thermostat offers the ability to control your energy usage and can be networked to your Honeywell security system, allowing you to check up on your property with a single app.
Like other thermostats, the Z-Wave® control panel lets you program your temperature settings based on day and time. But it also includes more advanced capabilities:
Adaptive Intelligent Recovery: Your thermostat will eventually learn how long it takes your HVAC system to reach the desired temperatures, and will adjust the timing of the transition accordingly.
Heating-and-Cooling Auto Change Over: Many thermostats offer separately programmed furnace and air conditioning settings, relying on you to flip a switch based on the season. But for those days where the temperature spikes or drops unexpectedly, the ZWSTAT thermostat detects the weather change and reacts, automatically switching to the temperature settings you need.
Multiple Hold Options: Set the system to go into power saving mode while you leave for a weekend day trip or go on vacation. The hold can be lifted just before you get back and all of your programmed settings will still be in place.
Service Alerts: Get notifications when air and dehumidifier filters need to be changed.
ADDITIONAL FEATURES
Offers a seven-day programmable schedule, with up to four daily periods.
Fan circulation helps maintain even temperatures throughout your home.
Includes Wave® wall-mounted, wireless touchscreen thermostat control panel with simple, menu-driven programming.
Compatible with a broad range of 24-volt heating and air conditioning systems.
Keypad lockouts allow for minimum and maximum manual temperature changes (great for business customers that want to prevent major temperature changes).
Comes with mounting hardware and installation manual.
Contact Fortress Security today to get more information on installing the ZWSTAT Z-Wave® thermostat in your home or business.

*When used as directed, Honeywell programmable thermostats can save homeowners up to 33%, or up to $200 a year, on annual heating and cooling costs. Numbers based on average annual utility costs of $1500 with 50% going to heating and cooling costs and 33% savings if used as directed. Savings may vary depending on geographic region and usage. See www.energystar.gov for more information.