Nationwide Alarm Monitoring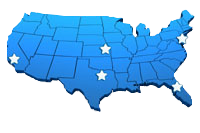 We're proud to have the nation's largest network of monitoring centers—because it means our customers receive faster emergency response. Our Monitoring Centers are U.L. Listed and equipped with the latest telephone, computer and redundant back-up power systems available today to ensure our services are uninterrupted.
Let our professionally trained and licensed staff provide you with courteous service. We're always on-guard to respond to any emergency; holidays, middle of the night, weekends, 24-hours a day, 365 days a year!
Our Monitoring Centers are located around the country and they are interconnected to provide you with uninterrupted service:
Texas
New York
Kansas
Florida
California