Standard Keypad From Honeywell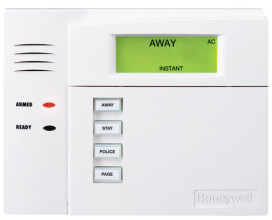 Basic, easy, cost-effective home and business protection—that's what the standard security keypad from Honeywell offers. The VISTAKEY Single Door Access Control panel is designed with state-of-the-art technology and is simple to install and use.
By integrating intrusion detection, access control and fire protection into one easy-to-use system, this panel has all the capabilities to keep you secure while also being designed for convenience. Guard point-of-entry areas with this single-door device, be aware of any unauthorized access and have peace of mind without the headache of a complex device.
Efficiency is perhaps VISTAKEY's greatest asset.
With the device sending direct signals to your main control panel and minimizing access validation time, you'll never feel inconvenienced but always feel protected. Thanks to the remarkable communication capability between the device and the rest of the system, you will be quickly alerted to the first sign of trouble.
Take the stress out of home and business security. The Honeywell standard keypad offered by Fortress is perhaps as standard as they come when it relates to convenience. But as reliable as any on the market when it comes to security.
FEATURES AND USES
Place on 4 to 15 doors
Supports 250 to 500 cardholders and eight access groups
Three input zones, supervised or unsupervised; can be used for door status monitoring
512 to 1,000* access control events recorded in VISTA event log
Request-to-exit monitoring and cabinet monitoring (tamper)
One-open collector output trigger
Programmable locally from keypad or remotely from Compass Downloader.