Is That Home Security Representative a Door-to-Door Scammer?
July 6th, 2016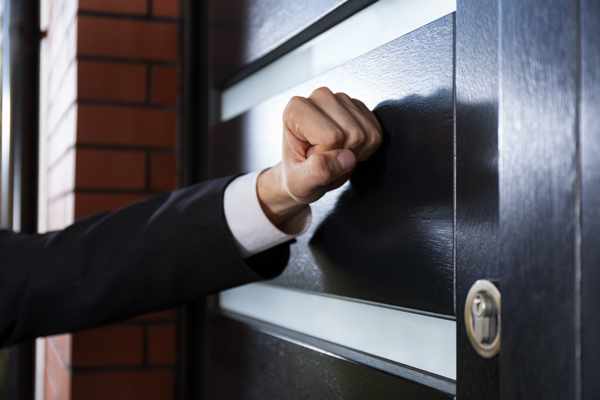 Door-to-door scams may not seem as commonplace as they once were – with people now more educated on sneaky sales tactics and the ever-increasing use of the Internet for online shopping and product comparison.  But, door-to-door sales scams are still happening, especially in the summertime, and there's a good reason for that.
Quite often during the summer, there is also the influx of new, college students, home for the summer and taking short-term jobs with larger security companies that may not adhere to the training they were given, doing anything to get in sales before the summer ends. Don't fall prey to these scams. Follow our suggestions below to have a fun, worry-free summer.
Know what to look for before you answer the door.
What are the usual types of scams?
Free Upgrades
These tend to happen from salespersons posing as representatives from your security system provider. They say that they are here to upgrade your system, however, they are actually changing out your system with a competitor's at a higher contract price. They will say things like "your security company merged with ours or our company just bought your security company, and now we're upgrading everyone on the legacy systems." They will also say your security company is going out of business, and they've taken over the contracts and need to process a free upgrade. Anything that is "free" should raise a red flag.
Burglars
This may seem obvious, but these guys are generally very good at what they do. These would-be burglars are actually posing as a salesperson, just looking to scope out or modify your system so they can gain access more easily, at a later time.
Phone Call Scams
Not all scams are door-to-door. In fact, in 2014 home security systems phone call scams were among the top scams that year. Often the scammer will resort to calling your home and asking which security system you have installed — pretending to be a salesman for another company, but in reality, they're just determining if you're an easy target. Many times they will start out as a pre-recorded call aka robocall hoping you'll take the bait and stick on the line to speak with a "representative." The content of the robocall usually sounds generic and won't bother listing a company name in the process.
Be aware they shouldn't ask for a credit card or any other sensitive information over the phone. If they do, that should set off some alerts in your head to hang up the call.
Ways to avoid scams
Knowledge is power, so first and foremost make sure you contact your existing alarm company before signing any contracts or paperwork from a door-to-door salesperson from another security company.  Second, inform your kids and anyone staying at your home for the summer of your alarm system and the potential for scam artists. Let them know that any changes would be scheduled and no person coming to change or fix your system would try to sell you something.
If you schedule a maintenance or upgrade appointment, make sure everyone is aware that someone will be visiting your home to work on the system, especially if you won't be there.
Visual cues can help you decide if they are with your company. Start with the solicitor. Do they have a uniform or other identifying materials on them? Does their car have a wrap or any other company decals? Some states even require a "pocket card" that includes a license and photo ID.
No Soliciting signs are also a good deterrent for scam artists. If you let it be known that you aren't willing to be approached, they'll be less likely to knock on your door in the first place.
If you don't have a sign, ask them if they have a soliciting permit in your city? Are they abiding by the rules of that permit? If they are at your home before 9am or after 7pm they are more than likely violating the ordinance. Here's one example of a solicitation permit, required by Richardson, Texas –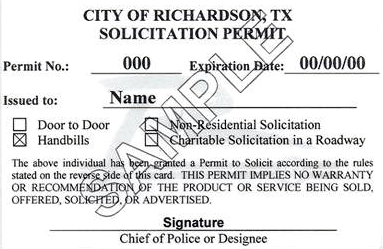 Keep in touch with your neighborhood watch program and find out how common scams are in your area, and watch the local news for any notices of scams.
Get on the Do Not Call list, this will minimize solicitation calls and the potential for future scams. It's free and easy to add yourself to the list. Just check out https://www.donotcall.gov/ and fill out the appropriate form. If someone calls you and you're on the list already, remember to report them on that site as well!
Protect yourself and others
If you are one of the unfortunate targets of a potential scam this summer, do your part to help make it stop. Taking the time to report a potential scam artist can save many in your area the time and frustration that comes with undoing the damage caused by them. So, where do you start?
Start by contacting the local authorities to report the salesperson. Your local police department should have a non-emergency number you can call to report them. Also, don't let your neighbors fall prey to scammers. Let them know of your encounter by posting on any online forums that you may have for your neighborhood on Facebook, Nextdoor or even texting them to get the word out.
In the unfortunate case you become the victim of a scammer, remember, you have 3 days to cancel any contract you signed. You can also file a consumer complaint with the Texas Attorney General or BBB if you like.
Spend your summer scam free
As summer begins and the temperatures rise, so do the chances you'll encounter someone trying to scam you out of your hard earned money. Taking the time to make you and your household aware of the risks is the best way to keep a scam from happening to your home. Also, know that most reputable security companies won't come to your home unless you have scheduled an appointment with them.
Fortress Security offers a wide range of home security capabilities and other safety features. Give us a call or fill out an online form to request a free quote today.

Posted in: Home Safety, Home Security Tips » by: admin
Leave a Response
You must be logged in to post a comment.