Best Practices – What is an automated home security system, and how does it work?
February 26th, 2016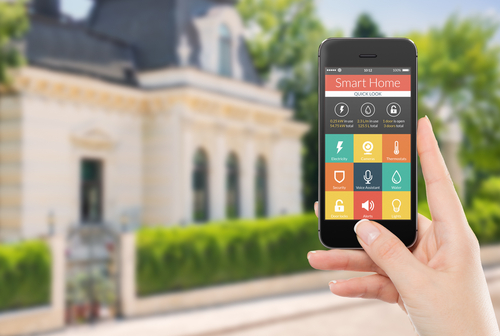 Simply put, an automated home security system means your home is programmed to your lifestyle needs, wants and preferences. Want your lights to come on when the sun goes down, regardless of if you're at home or not? Maybe you need to let someone in, but you can't get to the door? Or, for budgetary reasons, do you want to set your home's temperature to optimal settings only when someone's in the house? All of this, and more, are some of the conveniences that come with an automated home system.
With a smart home and an automated system, you can arm and disarm your security system and camera system according to a schedule, remotely control camera monitoring and recording, manage your temperature settings, turn lights on and off, lock and unlock doors, and manage major appliance controls. Just set it and forget it.

Home automation is not only a lifestyle convenience, but it can also save you money by heightened security capabilities and avoiding unnecessary usage of energy, saving you time, money and hassle.
Sounds great, right? Sure. But it can't be that simple to get all of these systems set up and configured into my home, right? Wrong. With recent technological advances and a demand for smart products flooding the market, home automation systems are very affordable and accessible.
Once you're ready to get started automating your home, or if you want to upgrade your current system, there are a few tips, tricks and best practices to make your setup and installation as efficient as your new smart home technology.
MAKE SURE YOUR WIFI CONNECTIVITY IS A GOOD QUALITY
Before you get started, consider adding or upgrading your wireless Internet connectivity if your home needs service or has spotty, unreliable Wi-Fi. If you plan to have remote access to all or part of your automated system, good connectivity is vital.
DETERMINE YOUR NEEDS IN A PRIORITY LIST
Sit down. Make a list. For your family, home and lifestyle, what are the most important features you need in an automated home system? Alarm system control, camera control, lighting system control, thermostat control, door locking and unlocking, garage door control, all with remote capabilities? Prioritize what you want, so you don't get upsold and find yourself with automated features you don't ever use while missing smart features that would make sense for your day-to-day.
HIRE A PROFESSIONAL TO INSTALL YOUR SYSTEM
Although the Internet, especially YouTube and DIY-sites, will show you how "easy" it is to purchase the right products, the right installation equipment, technology assistance and the best setup scenario, the truth is, if you're like most people, you've never done this before. A professional has. Save yourself the time and expense of incorrect or faulty installation and potential repairs and find someone who knows what they're doing. Usually, if you purchase the equipment through a reputable company, installation will come at a minimal fee or sometimes at no cost at all.
TRAIN YOUR FAMILY OR OTHER HOUSEHOLD MEMBERS ON HOW YOUR SYSTEM WORKS
The last thing you need after getting your new smart system up and running is for little Timmy or Grandma June to come through and break it because they didn't know what they were doing. Take 30 minutes to educate those in your house about your new system (or explicitly tell them, "HANDS OFF!") to avoid simple user errors.
TELL YOUR INSURANCE COMPANY
Updated your home's smart capabilities and security features? Call your home insurance company right now! Almost all insurance companies will give generous discounts for upgrades that better protect your property and the valuables inside.
Interested in a free home security system quote? We can price out a security system that meets your needs and go over all pricing options in detail.

Posted in: Home Automation » by: admin
Leave a Response
You must be logged in to post a comment.